OIL ANALYSIS
We can now analyse oilseed, to give a breakdown of the different oils within the seed.
This test will distinguish between '00' and HOLL varieties and also highlight high levels of Erucic Acid.
The levels of the following oils are displayed on a Certificate of Analysis
• Erucic
• Linolenic
• Oleic
The test requires a 200g sample.
The charge for an oil analysis is £15 + vat to non-members (free for members)
ARE YOU A GROWER OF COMBINABLE CROPS?
Woldgrain Storage now offers
INDEPENDENT ANALYSIS OF CROP SAMPLES
(by appointment during harvest)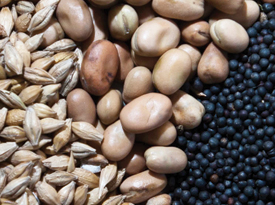 Including:
•  Moisture Content
•  Specific Weight
•  Screenings & Admix
•  Oil
•  Wheat Protein
•  Barley Nitrogen
•  Hagberg Falling Number
•  Barley Germination
•  Mycotoxin 'DON'
•  Ochratoxin
This is a FREE service for members of Woldgrain Storage
Charges for non-members
Standard analysis for cereals   £5 (exc VAT)
Standard analysis plus Hagberg/Germ  £10 (exc VAT)
DON testing   £25 (exc VAT)
Ochratoxin testing   £25 (exc VAT)
Public Weigh   £8 (inc VAT)